Honoring Ira Stuart Jacknis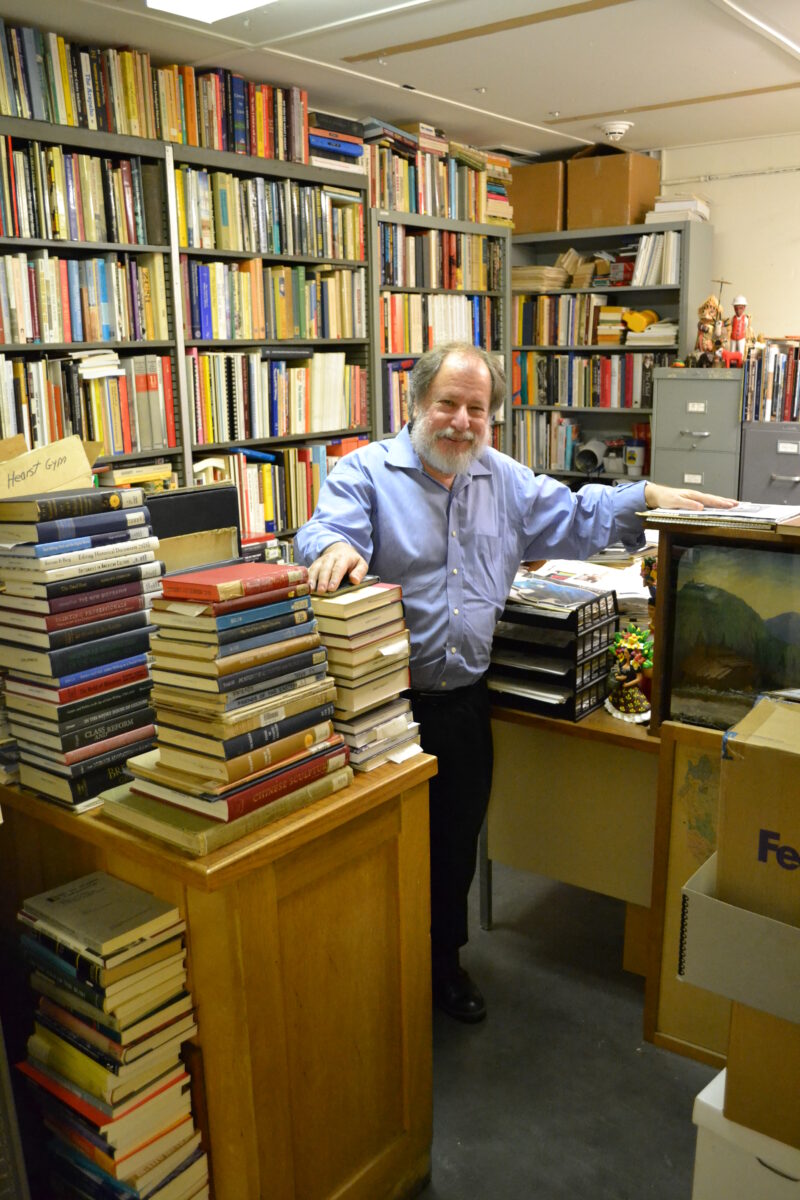 Honoring Ira Stuart Jacknis (1952-2021)
It is with great sadness that we note the sudden passing of our esteemed colleague Ira Stuart Jacknis. Jacknis passed away peacefully at home on September 29, 2021 after a brief illness. He is survived by his brother Ian Jacknis and sister Jocelyn Jacknis, both of New York.
Born in New York City on March 25, 1952, Jacknis went on to enjoy a long and prolific career as a cultural anthropologist at several of the most prominent anthropology museums in the United States. He earned his B.A. in Anthropology and Art History, summa cum laude, from Yale University in 1974, and his M.A. and Ph.D. in Anthropology from the University of Chicago in 1976 and 1989. While completing his Ph.D., he worked as a curator at the Brooklyn Museum, and in 1991, he co-authored his first book, Objects of Myth and Memory, based on the museum's American Indian art collection.
In August of that same year, Jacknis joined the staff of the Phoebe A. Hearst Museum of Anthropology (then the Lowie Museum of Anthropology) at the University of California, Berkeley as a Research Anthropologist. During his tenure at the Hearst Museum, he taught courses in museum anthropology, mentored countless students and aspiring museum professionals, curated dozens of exhibits, and completed a staggering number of publications based on his research. Jacknis possessed an unparalleled knowledge of the Hearst Museum's collections and generously shared that knowledge with students, fellow staff members, and colleagues. A scholar of many subjects, he specialized in the history of anthropology, museum anthropology, and the arts, cultures, and customs of the Indigenous peoples of the Northwest Coast, American Southwest, and California.
Among his major exhibits at the Hearst Museum were Back Roads to Far Towns: Folk Art of Rural Japan, September 1994 – June 1995 (and resulting catalogue), The Carver's Art of the Indians of Northwestern California, August 1995 – February 1996 (and associated documentary film), Food in California Indian Culture, September 1997 – January 2000 (and resulting publication by the same name), and In the Land of Kings: Aspects of Artistry in Rajasthan, India, September 2006 – July 2007. He was particularly fond of Visual Anthropology and helped secure grant funds from several, prominent foundations to support the preservation of the museum's ethnographic film and audio recordings. In addition to curating numerous photographic exhibits at the Hearst Museum, he joyfully participated for many years in the selection of applicants for the Dorothea Lange Fellowship for documentary photography at UC Berkeley.
Throughout his career, he presented over 60 public lectures, wrote a total of 7 books and manuscripts, served as a reviewer for dozens of academic publishers and institutions, and published over 100 articles, reviews, and book introductions. Additional publications of note include The Storage Box of Tradition: Kwakiutl Art, Anthropologists, and Museums, 1881-1981 (2002) and a forthcoming book on the history of miniature dioramas in anthropological museums.
In 2021, Ira fully retired from the Hearst Museum after 30 years of service with multiple research projects, articles, and manuscripts awaiting completion. In addition to his work at the Hearst Museum, he served as a Research Associate for the Peabody Museum of Archaeology and Ethnology at Harvard University, the Smithsonian Institution, and the American Museum of Natural History.
Despite the impressive number of accomplishments and accolades noted here, his contributions to the field of anthropology and the influences he had on generations of scholars are beyond measure. It is incomprehensible to think of the Hearst Museum without Ira Jacknis and he will be dearly missed.
–The Staff of the Phoebe A. Hearst Museum of Anthropology
---
Private services were held with his family in New York. A public memorial service will be held at the Phoebe A. Hearst Museum of Anthropology on Thursday, December 9 from 1-2:30 p.m..  Letters of condolences for the Jacknis family or Hearst Museum staff may be sent to the following addresses:
pahma-execdirector@berkeley.edu
or
Phoebe A. Hearst Museum of Anthropology
103 Anthropology and Art Practice Building #3712
Berkeley, CA 94720-3712
---
Donations in his memory may be directed to the Hearst Museum.
If sending a check, please make payable to:
The Hearst Museum Fund (FU1053)
Note: IMO Ira Jacknis
Mail Checks to:
University of California, Berkeley
Donor and Gift Services
1995 University Avenue, Ste 400
Berkeley, CA 94704-1070